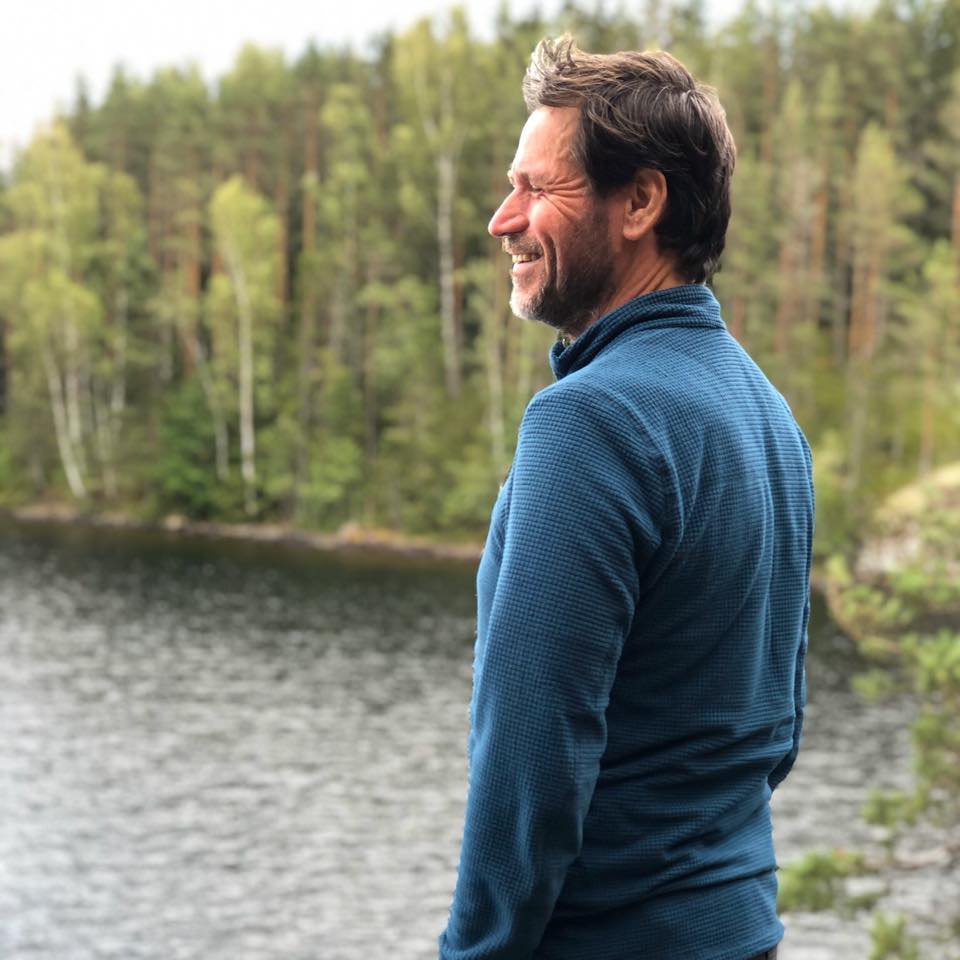 My name is Jerome Stoel (1967) and have a practice in body-oriented trauma therapy, for people who want to heal from childhood trauma and thereby achieve inner peace and tranquility. I have been working independently as a trainer and therapist since 2003, both with groups and individuals. I have worked as an NLP trainer since 2003, 10 years and since 2013 as a Mindfulness MBSR trainer and Somatic Experiencing Practitioner. In addition, I'm facilitating vipassana silence retreats.
I work as a body-oriented trauma therapist. From my practice I work with issues related to traumatic events (Shock trauma, PTSD, cPTSD and attachment issues and dissociative disorders, such as DID and OSDD).
It has always been my view that trauma can be resolved by approaching it from different perspectives, psychology, physiology and neurology, relational context, intergenerationality and spirituality. Body and mind are connected. Physical symptoms can arise from the mind and vise versa. Therefore I work with multiple disciplines; Somatic Experiencing, Mindfulness, Neurofeedback, NLP (Neuro Linguistic Programming), PNEI (Psycho-Neuro-Endocrino-Immunology) and Attachment Theory.
I believe that healing only happens when you feel safe and secure, and that safety comes from gentleness, overview and transparency. I also believe that healing requires effort and commitment. You can therefore expect a gentle approach from me with a clear framework, within which I expect your commitment to develop optimally. In connection with you I resonate during the process with your inner experience because I believe, contrary to general conventions, that only then I can connect with what is really going on in you. This creates a human-to-human contact in which you can be yourself and grow.
Of course it asks a lot of me as a human being to be exposed daily to the enormous suffering of my clients. Therefore I take good care of myself and continue to develop my resilience. I do this, among other things, by following continuous (body-oriented) therapy and supervision and also by purifying and maintaining my own mind through the practice of vipassana insight meditation. The latter I do by a daily practice but also by following long silence retreats of 10 days and more. See also at the bottom of this page.
Supervision
I'm working under continuous supervision of professionals:
Professional Education
VCT – PostMaster HBO – Training in the treatment of adults with a history of Early Childhood Chronic Traumatization and symptoms and complaints of Complex Posttraumatic Stress Disorder, Complex Dissociative Disorders and or Attachment Disorders. This course educates psychological healthcare professionals with the latest knowledge about and applications for these problems as used in the Top Reference Trauma Centres (TRTC) Top Reference Trauma Centres (TRTC) in the Netherlands. I am following this education program at the Centre for Late Effects of Early Childhood Traumatization (CELEVT) from March 2020 till April 20121.
Certified Somatic Experiencing Practitioner (Peter Levine) – I followed this 3-year training in body oriented trauma treatment at Somatic Experiencing Netherlands from 2016 – 2019.
Bachelor of Psychosocial Basic Knowledge CPION – This legally required training makes it possible for my sessions to be (partly) reimbursed through the additional package of most health insurers in The Netherlands.
Certified Mindfulness MBSR trainer (cat. 1) – In the period of 2013 – 2017 I have completed the complete mindfulness MBSR / MBCT trainer training at the Mindfulness Centre in Amsterdam, The Netherlands. This gives me a category 1 membership with the Dutch professional association VMBN, so my training is reimbursed by insurance companies in The Netherlands.
Certified Neurofeedback therapist – Neurofeedback trains the brain to function better, reducing complaints and symptoms and sometimes even disappearing. I followed this training at Neurotherapy Center Hilversum from 2008 – 2010. Since completing the training I apply it in my practice. For the first two years I worked on behalf of the UWV ziektewet (Employee Insurance Agency). The people I saw were people with serious mental/emotional problems, such as burn out, trauma, depression, anxiety, etc.
Internationally certified NLP trainer – NLP (Neuro Linguistic Programming) is a method that leads to insight and change with more personal effectiveness, flexible communication and changes in thinking and doing. In the Netherlands I was trained at Linn, at Arcturus in Belgium and in The UK at  The Performance Partnership. After my certification I was owner of Mindfactory, an institute in NLP training from 2003 – 2013. I trained an average of 6 groups a year to become an NLP practitioner, master practitioner and postmaster practitioner.
Transpersonal Coach and Counselor – I followed this two-year course in Belgium at Arcturus. After this I assisted for two years and after that I followed another head year. This is a very broad in-depth training postmaster NLP in which developmental psychology, Spiral Dynamics and NLP are central topics in this training.
PNEI (Psycho-Neuro-Endocrino-Immunology) – PNEI is the medical science that investigates relationships and makes connections between brain, nervous system, immune system and hormones. I followed this training in 2011 Cell Care and apply this knowledge in my work.
And professional trainings and workshops: 3 years Heart & Sexuality training (BodyMind Trainings), EMDR, Bio-feedback (heart coherence), Systemic work (family constellations) as part of the TCC training, Transactional analysis, Hypnotherapy, Basic medical knowledge, Quantum Psychology, Emotional Bodywork, etc.
Experience
Bewust Vrij Mindfulness & Therapy (2012 – today) – As owner of Bewust Vrij I facilitate trainings and retreats in Mindfulness and Vipassana meditation.
Mahasi Sayadaw Foundation Netherlands (2019 – today) – As a board member of the Mahasi Sayadaw Foundation Netherlands I assist in the 10-day vipassana retreats according to the method of Mahasi Sayadaw.
Medisch Kwartier Naarden Vesting (2015 – present) – I work as an independent trauma therapist in the multidisciplinary team of the Medisch Kwartier Naarden Vesting (MKNV). Here we look at care and patients in a slightly different way. We take time to find the cause of your complaint. Fighting the complaint is usually only temporary, we strive for structural solutions so that you feel really fit again.
Het Verdwenen Zelf (2015 – today) – As an independent trauma therapist I am affiliated with Het Verdwenen Zelf. This network organization of about 25 therapists throughout the Netherlands focuses on helping victims of emotional and psychological abuse. Through targeted information, two books, therapy and workshops we try to give more insight into the consequences of narcissistic abuse and to make it more widely known.
Mindfactory NLP Opleidingen (2003 – 2013) Founder and owner of training institute in NLP (Neuro Linguistic Programming), accredited by the Dutch Association of NLP (NVNLP) and the American Board of NLP (ABNLP).
If you want know more about my professional knowledge, experience and references, feel welcome to connect with me by LinkedIn.
Buddhist Training
You learn the Dhamma (the instructions the Buddha gave for achieving inner liberation) through experience. I consistently practice mindfulness and vipassana meditation, both in the formal form and in daily life. In addition, I study the Dhamma through the Buddhist scriptures and through dialogue with my teachers. I also regularly participate in short and long retreats in Europe and Southeast Asia. I started with vipassana meditation in the lineage of Sayadaw U Ba Khin from Burma according to the method of S.N. Goenka but after my visits to Thailand in 2011 switched to the method of Mahasi Sayadaw as transmitted by Sayadaw U Pandita in Burma. Here I have since followed three "special retreats" of 60 days. I had the privilege of attending U Pandita's last retreat before his passing on April 16, 2016. I still consider him my most important teacher today. During the last retreat I attended in Burma in 2018/2019, I was guided by his successors Sayadaw U Thuzana and Sayadaw U Nandasiddhi, among others. These days, I also attend retreats with another disciple of Sayadaw U Pandita, Sayalay Daw Virañani. 
I practice mindfulness and vipassana meditation daily. I also regularly participate in retreats of 10-60 days in Europe and Southeast Asia. I did my last long 60-day retreat in Burma. You can read my experience of my first 60-day retreat here, or watch an interview about the retreat below.