Three days of silence for trauma survivors.
Attending a vipassana silence retreat can be liberating and life-changing. Therefore lots of people immerse themselves in silence. But when you are dealing with a form of (psychological) trauma an intensive vipassana / mindfulness retreat can be tough and sometimes even overwhelming.
For this reason the Burmese teacher Sayadaw U Pandita states:
In general, meditation is for people with normal and stable minds. However, if someone is not mentally in shape to meditate intensively, especially to conform to strict discipline, then that person cannot be admitted.
To give trauma survivors the chance to experience the healing power of vipassana / mindfulness meditation, I organize the three-day Trauma Sensitive Retreat.
Who is it for?
This retreat is especially for people who need a vipassana silence retreat but still find it too exciting.
People who will benefit from this retreat:
When you're daydreaming on a regularly basis, when you are 'not here anymore', or when you get 'lost' in thoughts and this hinders your functioning.
When you have been through radical events that you have not yet properly processed, such as the loss of a loved one, a complex divorce, a burn-out, a dismissal, a serious illness, an accident, etc.
When you regularly suffer from gloomy or depressive feelings.
When you are regularly plagued by nightmares, or have other sleep problems.
When you are regularly hyper-active or alert.
Or when you slip into a hypo-active state (passivity, lethargy, aimlessness, meaninglessness, etc.).
When you are very sensitive and/or highly gifted and do not (yet) know how to deal with that.
When it is sometimes difficult to regulate your emotions, or you suffer from mood swings.
When it is difficult or impossible for you to relax.
When you know that you suffer from a form of trauma, such as shock trauma, PTSD, complex PTSD, emotional trauma, childhood trauma, and/or (structural) dissociation, or have other symptoms that can be traced back to this.
The assumption is that all of these symptoms are related to some form of trauma and are ultimately coping strategies of our minds to deal with the underlying feelings.
If you are unsure if this retreat is right for you, please contact us using the form at the bottom of this page.
Why is it difficult to meditate when you have trauma?
During meditation, the mind is invited to calm down. It is like a centrifuge that comes to a stop. This sounds appealing, but in a traumatized brain, it recalls the very memories that needed to be suppressed. Through meditation you turn off the coping strategies that were so necessary to keep the underlying overwhelming emotions under control.
It therefore requires great care and small steps to approach and regulate the emotions associated with these memories. Through specific instructions, it is possible to achieve this during meditation.
Read more in my article, "Why Meditation is Challenging for People with Trauma.
Trauma Sensitive Meditation with Somatic Experiencing
In let the meditation method being suitable for trauma survivors, a few important adjustments have been made during this retreat.
Basically, the sitting meditations are alternated with walking meditations, as commonly used in the Mahasi method. In addition, we practice in a specific way, aimed at regulation of the nervous system. We use the principles of Somatic Experiencing™ by Peter Levine, this is a body-oriented trauma therapy that works on integrating traumatic experiences stored in the nervous system. Somatic Experiencing fits vipassana meditation in a very good way because many of the principles are the same. Read more about Somatic Experiencing here
What's in it for you?
By attending this Trauma Sensitive Retreat, you are giving yourself the opportunity to reap the benefits of Vipassana meditation, despite your traumatic past. Vipassana meditation is simply a path to freeing the mind from inner stress to achieve inner peace, joy and happiness in life.
You will learn to safely apply this proven form of meditation in a way that suits your situation. Once you have attended this retreat and appropriated the basic principles of self-regulation while meditating, it opens the door to longer retreats that will allow you to continue on the path of inner freedom.
---
Personal guidance and practice
During the retreat, we will guide you in developing self-regulation when you come into contact with difficult emotion, memories. In addition, we build up the skills in practicing vipassana meditation throughout the days. Parallel to this you will be taken into the fundamentals of Buddhist psychology. We will build this up in little steps so that your (traumatized) system will be able to cope. Optionally, there will be the possibility to book a personal session (at extra cost) to integrate the experiences in the silence. Because of the limited time, the number of places for these sessions are limited.
In any case, you learn skills to regulate emotions and the bodily sensations and thus create greater inner stability. In addition, the practice of vipassana meditation leads to insight (intuitive wisdom), and this in turn strengthens the skills to regulate.
Form
This three-day vipassana / mindfulness retreat takes place in silence.
As is common in retreats, we commit to the five ethical resolutions (no killing, no stealing, no sexual acts, no lying, no intoxicants). You will find that this will be very supportive. During the retreat you will have no contact with the outside world, with your group mates or other distracting factors.
As mentioned above, it is possible to have contact with the facilitator.
What we are asking from you is enthusiasm and goodwill. It is important that you are able to be present in a group in silence. You are willing to practice with great determination in a continuous way. If you decide to participate you go for the full three days. This can be tough and confronting, but the reward is great. People who have practiced picking like this have benefited tremendously. It can transform your life.
---
Program
On the day of arrival you are welcome between 09:00 and 10:00am. You then have time to settle into your room. At 10.00am we start with an acquaintance, a general introduction and the silence begins. Between 12.00h and 2.00pm we'll have a lunch break with a hot meal. At 2.15 pm the meditative program starts. It is possible to book a session here (at an additional cost).
The next day we wake up at 05.00am and continue the program from 05.30am. Breakfast is between 07.00 and 08.30am after which we continue the program until lunch at 12.15pm. After this the program looks the same as the previous day. We are available 24 hours a day if needed.
The third morning, up to and including lunch, looks the same as the previous day. After lunch the afternoon will be about breaking the silence, integration and making the transition to daily life. At about 4.00pm we will conclude and leave for home.
Daily schedule
Click unfold below to view the full program.
---
Beforehand we have an appointment for introduction / intake. Here we will explore together what your intention is for this retreat. Possibly we will have one or more personal sessions before the retreat starts (at my current rate). If necessary this will be in consultation with your therapist / psychologist / psychiatrist.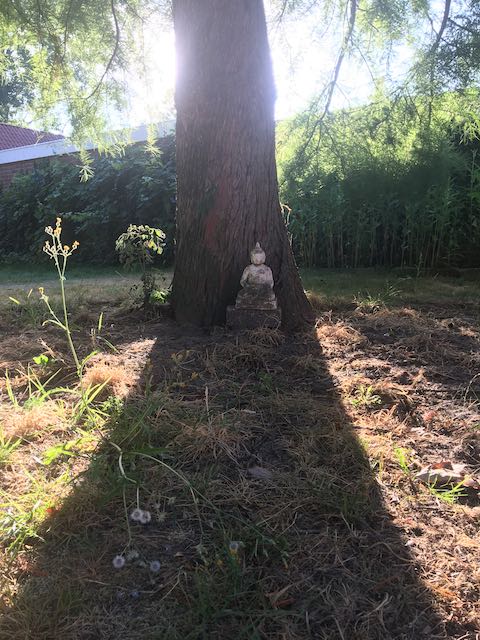 Practical data
Data 2021
April 2 – 4, 2021
New dates will follow in early 2021
Times
Friday 10.00 a.m. – sunday 04.00 p.m.
Location
Guidance
This retreat is led by Jerome Stoel. Jerome has been practicing vipassana meditation since 2007 and since 2013 he has been attending retreats of a few months in the cradle of the Mahasi method on a regular basis: At Panditarama under the late Sayadaw U Pandita in Myanmar (Burma). Jerome is also trained as a Somatic Experiencing Practitioner trauma therapist and he is also taking the in-depth training as an early childhood trauma specialist at the Center for Late Effects Early Childhood Trauma (CELEVT).
Maximum number of participants
Cost price 2021
Single room: € 319 (excluding donation, including VAT)
We give this retreat on a cost and donation basis (according to the Buddhist principle of dana). The minimum contribution is € 319,- single room (m/f separate). This cost is for the full package including bed sets and towels.
With this cost price, we haven't earned anything yet. For our livelihood we depend on your additional donation. With your donation you'll make it possible we can continue this work for others. The "normal" price of the retreat is € 540, – Please read how dana works
The cost quoted includes:
Telephonic consult in advance.
Two nights' accommodation.
Bedding and towels.
Delicious vegetarian and mostly vegan meals.
Unlimited tea and water.
During the retreat, it is possible to book a session at an additional cost.
Sign up
Click the button to sign up immediately
Want more information or apply for an option?
You can request an option by sending a message through the contact form below. I will let you know if this is possible. Up to five weeks before the start date an option of up to two weeks is possible, from five weeks to two weeks before the start date an option of up to one week is possible.
For more information, please feel free to contact us using the form below.
Would you please check your email address correctly? If this is not correct I cannot reply.
[contact-form-7 404 "Not Found"]